GET YOUR COPY TODAY!
THE PITKIN REVIEW: Return to Sender
FALL 2023 EDITION
Thank you to all of the staff for making this important work possible.
GET YOUR COPY TODAY
Support the creativity and hard work of the Goddard College Community, buy your copy today!
EDITOR IN CHIEF FOR FALL 2023 ISSUE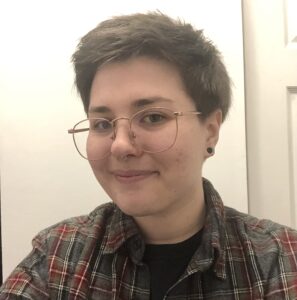 Dear Fellow Creatives,

This afternoon I wish to approach this letter with sincere humility. It has been an honor to serve as Editor in Chief for The Pitkin Review for the Spring 2023 semester. This experience pushed me to my limits and taught me many great lessons about both the production of a literary journal and the profound spirit of Goddard College. Countless times throughout this process I have had students and faculty rallying in my corner and I cannot thank you all enough.


I would next like to thank the incredible staff of The Pitkin Review. Without their dedication, flexibility, and creativity, we could not have produced a successful publication. I would like to especially thank my two Associate Editors, Katie and Jude, for their integral commitment to this issue. I would like to also thank former Editor in Chief Brooklyn Baggett for her support and guidance.


When Jude, Katie, and I originally decided on the theme "Return to Sender" during the winter residency, I knew how vital it was to represent a broad range of experiences and celebrate the diversity that is Goddard. From The Email List and The Size of a Fist to Taking Water and When A Tampon Is Stuck In Your Vagina, from How can we keep us safe if we are not safe? to Endowment, this issue is filled with conversations unspoken and messages unsent from a variety of perspectives. For me, as a queer trans person, to help release these messages out into the world in their true, unapologetic form is an act of both defiance and healing. I find the two actions inseparable in this semester's issue, as our writers speak their unapologetic truths and find solace on the page.
Thank you to all our wonderful contributors and supporters. The Pitkin Review is a 100% student-run publication, and a testament to Goddard's strong student spirit. I am ecstatic to see what comes next for this publication over my last two semesters here at Goddard College and beyond.

In Service,
Gail