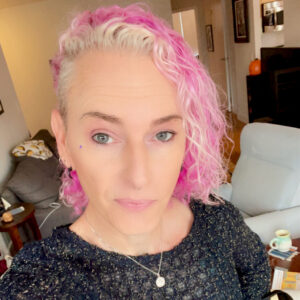 Lovely Fellow Creatives,
I approach the page tonight with a complex mix of emotions. Only twelve days remain until the 2022 Fall semester ends, and in twelve days I will have completed my MFA at Goddard. While elated that I'm at the finish line, there's a deep sadness around the thought of no longer being a Goddard student. That, alone, is indicative of why I've loved this process so much. And what an honor to be Editor in Chief for The Pitkin Review in my last semester.
First, I want to voice my deep appreciation for The Pitkin Review staff: their hard work and flexibility. While each and every person is integral to the issue's success, I would like to give special thanks to Associate Editors, Mik and Brendon, for their dedication and commitment to this issue– an issue in which we wanted to celebrate diversity.
Goddard is nothing without diversity, and the manifestation of that spirit is apparent in the unique group of humans who make up the staff and contributors. As a queer trans woman, I hoped to bring a queer vibe and outward perspectives to this issue. The level of ignorance and hatred that are plaguing our times is staggering; marginalized people are being silenced on every front. But the lovely, brilliant writers of Goddard can not be silenced.
We chose the theme "Window Seat" after much discussion on how to represent a broader perspective, outside oneself; a perspective that considers intersectionality, other's experiences, and how those experiences might mirror our own even if the circumstances are different. Or, perhaps, a window into ourselves and our own lived experience. From Junior Ornithologist and Why Pronouns to the shape of her lips and Bodies of Water, from Akkkademiks Eat Trees For Lunch- People's Park for the People to Being Read Is a Privilege (A Reflection on Goddard's MFA Commencement), this issue resonates with bold writing, intent on being itself. Intent on unapologetic voices. That is the spirit of queer writing. That is the spirit of Goddard. That is why I am so proud of this issue.
Thanks to all of the contributors and supporters. The Pitkin Review is 100% student run, a testament to our commitment to our strength. While I'll soon be leaving Goddard as a student, I will take my experiences, and the people, with me forever.
Graciously,
Brooklyn
Previous Editors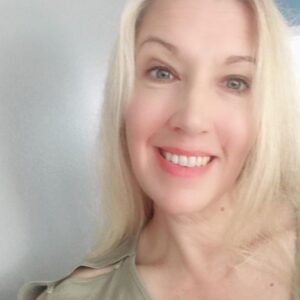 Thank you to the tireless, dedicated staff. This issue would not exist without your skill and effort and support. Thank you to the contributors for the air and light and wide-open words you've given.
Amy Landisman
Editor-in-Chief | Fall 2022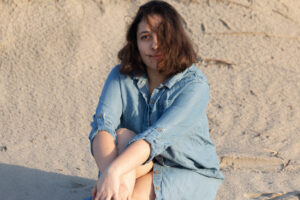 The Pitkin Review is a labor of love, and I am ever overwhelmed by the talent and creative vision of the contributors and staff. My time at Goddard has been tumultuous, but as we enter Spring of 2022 there is change in the air. I wanted this issue to reflect the beauty of collective emergence from troubling times.
The theme of this issue is Resonant Fractals. Fractals are the ever-present repeating patterns within our world. This issue explores the constants in life, it examines the facets of the human experience that allow us to remain whole, and in doing so allows an inhalation of fresh air. Allows a space for glorious reemergence and reflection.
Within this cover, there is work laden with infinite humanity and beauty. The words sing out that we will and have endured.
To the Pitkin Staff: there is not enough breath in me to sing my gratitude. The echoes of my thanks will resonate through this universe infinitely. To the contributors: thank you for sharing fractals of yourself with the Pitkin, and with me.
For all of the glorious creatives that have helped bring this issue into being: I am infinitely grateful for you all. For all of you who read this: It is all for you. May the work speak, may the resonant beauty of life endure, may all be well.
Maria Elizabeth Burns