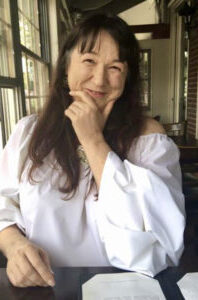 Cynthia Sharp (she/her) is a west coast poet and storyteller. After three years as a Director for the Federation of British Columbia Writers, she is grateful to be immersed in her own creative work at Goddard with such talented, supportive and encouraging peers. She loves to explore social justice and peace education through art and has enjoyed collaborating with actors, musicians, dancers, painters and other writers. Her poetry and reviews can be found in many literary journals including previous Pitkins, CV2, Prism online, Subjectiv Journal and the League of Canadian Poets' Poetry Pause, as well as in local bookstores and libraries.
Silvered Dawn
By Cynthia Sharp
Silvered Dawn
When you called the evening before our recital
to say you were lying on the couch
in your ball gown to rehearse our poem
I knew I'd won the lottery
of sister journeys
Remembered sitting beside you
admiring your ruby dress
the first time I heard your delicate chimes
the turquoise of a New Zealand paua
an iridescent spectrum of shimmering soprano
that lifted me into the heart of community
floating through air
How you adopted me
serenaded the Britannia Library with my verse
the first time we were paired
it was love you were giving, breathing, being
the safety of who you are
filling our local gathering with rainforest duet
with the same reverence you held
in the Queen Elizabeth Theatre decades earlier
Now you join me in poetry
my verse a requiem for your opera voice
an elegy to that part of you
that no longer is
that sang euphonies through me
the high of my performance life
tangerine, lemon, lime
now sand in the sky
light from an ended star
over and over in memory
the cantata of elevation
sparkly frost on a winter beach
the sea caressing you taking you home
I cry for the colours
you no longer cantillate
lavender tears sing for you
the echo of notes
gone like my grandmother's warmth
to memory
For the first time
your Parkinson's is real
more than graciously shaking hands
I want to resent it
for taking an expression of you
silencing a significant element
or promise to live your libretto
in all that we do
but know it just is
like Beethoven composing deaf
this unfair folding in cut off from giving
We make tunes with icicles
along the frozen river
a hymn to changing seasons
how it felt after concussion
when I could no longer speak intelligently
partnered with a young genius
for an eco-poetry spot in the Fall Festival
searching for my words
at home in hers
It's not okay for anything
to be taken from you
even if you go down singing
with your body
I grieve those vocal cords
that no longer reverberate your compassion
given in other forms
I embrace all the new ways you effloresce
the florescence of strong stanzas on paper
all those vibrations that once filled concert halls
now pulsating between lines
still a loss a hard goodbye
all the laurels I place on the podium
of that angelic coloratura
as you ascend the literary stage
all the blends of your harmony in autumn hydrangea
all the waves of sea blossoms
don't stop it
from being a funeral.