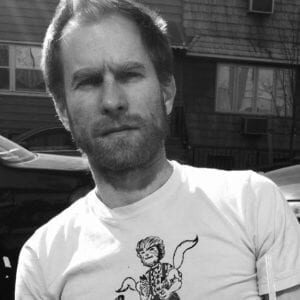 After publishing two collections of poetry with a bit of a micro press that took a chance on me in my twenties, I moved in 1998 to NYC to pursue a career in fiction writing, while not abandoning my working with autobiographical investigation, lyricism, experimentation, and impacts of class. I am interested in what it means to knowingly engage with and embrace influence; fictional forms that hold spaces for both pleasure and complexity, to question and disrupt easy realism, making meaning in new or counter logics, those move me most. It's this I work hard at in fiction.
In teaching I focus on an open exchange and sharing of ideas. I strive to create dynamic, all-inclusive, considerate interactions, an evolving critical empowering through the prompting of self-reflection, questions, and examining what place writing might really come to hold in one's life. This includes an emphasis on work habits and constructive critique that tries hard not to rely on oft repeated formulas but seeks to accept and explore each students' work on their own terms towards their own developing goals. To this end, I believe in such things as mutual respect and mutual engagement, alongside rigorous attention to detail and consideration of a range of formal implications and possibilities. As someone for whom writing has been my own means of improvement, I believe there is a politics here too, emphasizing the more backgrounds, the more perspectives, the better.
In 2000, I published my first novel, Outline of My Lover, with the then budding and first incarnation of Soft Skull Press, while completing an MFA in fiction. This novel was subsequently published by Picador UK, adapted by the Ballet Frankfurt for their multimedia live film performance production Kammer/Kammer, and named an International Book of the Year in the Times Literary Supplement. I was nominated for the American Library Association's GLBT Book Award and a finalist for a Lambda Literary Award. I took a lonely road trip across the United States in support of this book. In 2005, I published a novel of biographical fiction, Branwell: A Novel of the Brontë Brother (Soft Skull), finalist for a Ferro-Grumely Award, and a book of autobiographically linked stories, They Change the Subject (University of Wisconsin Press), named one of top ten books of the year in the San Francisco Bay Times and including "An Escort," finalist for a Pushcart Prize. In 2008, I published a collection of poetry, In the Time of Assignments (Soft Skull), and a cross-genre work, Your Body Figured (Nightboat Books). Seven Stories Press published my autobiographical novel, Once You Go Back, in 2009, my first title to also be released as an audiobook. I am a co-author of the haiku year and one of three of the writers featured in Body Forms: Queerness and the Essay. My poetry and prose has been anthologized and featured in venues including the Academy of American Poets Poem-A-Day, The Dublin Review, Fence Magazine, The Literary Review, LitHub, Salon, and Tarpaulin Sky. Reviews of my work and interviews in (selected): American Book Review, Austin Chronicle, The Believer, Bomb, Booklist, Boston Globe, Feminist Review, LAMBDA Literary Review, The New York Times, Publishers Weekly, RainTaxi, The Review of Contemporary Fiction, Virginia Quarterly. My work has been translated into Japanese, Portuguese, and Italian.
https://www.douglasamartin.com