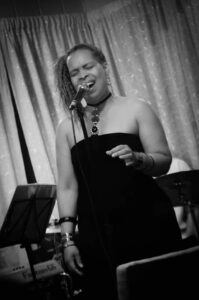 Jaz (aka Pamela Kareen Banks) is an Award-winning Published Poet, Singer, Author, Performance Poet, Actress, and ASCAP Member-Songwriter from Philadelphia, PA. She holds a BA in Theater from Temple University. Her poems are featured in multiple anthologies, literary magazines, and on the internet, podcasts, and public radio. Jaz's most recent publication was in the Moonstone Press Anthology "International Women's Day 2022." Jaz performs songs and poetry at open mics and featured performances as a soloist, and as a member of For Women Collective: an international performance ensemble created to honor the legacy of Nina Simone and as a member of Philly Jawns. She loves nature, karaoke, French fries, and the Big Cats! She is inspired by storms and sunshine. Jaz is a vessel of Christ for ministry, whether on or off the stage.
Alaina: Hi, Jaz. So you had three poems published in the latest edition of The Pitkin Review (Resonant Fractals, Spring 2022) – first, Congratulations! It's quite an accomplishment. Being on the final selection team for the last edition myself, I can say your work really spoke to people, opened their eyes – so thank you for sharing it with us. Can you tell us a little about one or two of your published poems? What was the inspiration behind them? What is a message you want your readers to take away? For those who weren't able to get a copy of the journal, Jaz's poems are: "I KNOW NOTHING (For Sylvia Plath)," "HISTORY (For Dr. Alena Maze)," and "ROOTED."
Jaz: Thank you Alaina for the congrats, your time and consideration to my work and your kind/reflective words regarding my poems in the Pitkin Review! The inspiration behind "I KNOW NOTHING (For Sylvia Plath)" is Plath herself. Long before I was introduced to her work, some of my poems had been compared to Plath's by one of my poetry mentors. I finally read her work in my G1 semester and it wrecked me! Her words spoke deeply to me because I know about suffering and the dark thoughts that can accompany that. I don't think/feel that Plath knew her own allure and power. I'm not sure she knew her worth. I wanted to tell her that she did live and she took up space and made a difference…her heartbeat mattered and made an imprint on this world and in this poet. I always say Plath changed the rhythm of my writing because I'd never ventured into being in such direct conversation with a poet (living or deceased) through my poetry before. I wish I would've met her. I wanted my words to be literal hugs for her beautiful tormented soul.
A main message that I want my readers to take away is that they are not alone in life's torrents of pain that can threaten to overtake and destroy. A lot of my poems exhort and minister peace, healing, love, joy, musicality and wholeness. I love the scripture Isaiah 54:17(NIV) "No weapon forged against you will prevail…" In Christ, the pain of living this life may come, but it's not going to take you out…it's not going to prosper over you! I love to encourage the world with hope through my work. My poetry is testimony.
Alaina: Your work seems to hold a significant element of social activism. In your poem "HISTORY (For Dr. Alena Maze)" you write, "Dr. Maze/ You are that history/ that the world does not want to acknowledge/ Are you in Guinness??/ Because I googled to see/ how many times your name was captured in/ Black & white newsies, articles, & bylines…/ >>crickets<<" This is such a powerful excerpt – poem. It speaks to the notion of histories being ignored, unrecognized; particularly the histories of women and people of color. Is social advocacy an important aspect of your work? Exposing injustices, ensuring that histories aren't completely erased… Is evoking change something you aim to accomplish in your writing?
Jaz: Thank you. Yes I write alot for my people. It is my divine calling to as you say, expose injustices; uphold and honor African American history. But I also write for those whose voices have been ripped out of their throats and silenced. I advocate for those who don't yet know about their light. For those who feel a part of the sidewalk they're living on. For those whose land and people have been pillaged and desecrated. I use my pen and the creative word as change-agents. English author Edward Bulwer-Lytton said it best "The pen is mightier than the sword." [Richelieu; Or the Conspiracy: A Play in Five Acts (second ed.). London. 1839]
Alaina: Such a beautiful sentiment; thank you for being so candid and open with us. In addition to being published in the last edition of The Pitkin Review, you also held the staff position of Copy Editor. Can you tell us about your experience working with the journal? Have you worked with literary journals in the past? What's your favorite thing about The Pitkin Review?
Jaz: I am tickled and joyous to be working as a Copy Editor with The Pitkin Review! This is my genesis and it's been such a pleasure and beautiful surprise. I say surprise because I thought the task would be taxing and time-consuming but it definitely hasn't been. I think it helps that there are two Copy Editors and we can complete the assignments cohesively. I love the experience of seeing the nuts and bolts behind the scenes of what it takes to produce a literary magazine. I'm ever on the outside as the poet eternally submitting work for publication lol. It's amazing to now see and experience it from both angles. My favorite thing about The Pitkin Review is it's taking a chance on and welcoming writers who are still in a space and practice of learning their craft. I think that is special, inspirational and honorable. Additionally, because as a copy editor I get to stand in the belly of creation and be a witness to the birth of my classmates written works of art! What a wonder to behold.
Alaina: Can you tell us a little bit about your working thesis? The title? Where you're at in the process? Anything you're comfortable sharing. Maybe share a line or two (or ten).
Jaz: What a delightful question! Yes, I feel comfortable in sharing my working thesis title "From Beneath The Indigo." I'll tell you a little bit in that my thesis involves honoring the heart of and exhorting humanity. I'm writing for the world. It's a big pill, I know. But it's my life's work and everything I've lived and experienced has led up to this. The basic human need is to be seen, to feel that you've been heard and that you're loved, unconditionally. This is the heartbeat of this work. Here's four pieces I'll share. You'll more than likely find them in my thesis 🙂
Alaina: Thank you for sharing! And thanks so much for your time, Jaz. I look forward to reading your thesis when it's completed (and hopefully published soon after). We hope to see your work again in an upcoming journal (or two)!
Jaz: Thank you kindly for having me Alaina! Ever since I was a little girl I've always loved the prospect of being interviewed. Maybe it's the actress part of me? Nah lol. I'm actually an introvert and normally let my work be my voice. But it's nice to come out of my comfort zone and share on a deeper level. I too pray that my work will find its home again in The Pitkin Review.
~
From Beneath The Indigo
Poems by Jaz:
FREEMAN
My Great Uncle has tales tall and wide as El Árbol del Tule.
I can't tell where the blur ends and begins.
Every person walking down the street has been cast in his story
"Oh, I know her!
She dated my cousin, then skipped town for parts unknown, before emerging to get hitched with my brother's brother at the Justice of the Peace. Shuuucks…ended up being my dentist!"
"Oh, I know him!
Met him in Mississippi. We were in the war together. Ran for our lives together
Wrestled alligators together. Went shopping for women, together"
The way he spins his words…Everyone feels and sounds famous to me!
Everydaypeople is his fodder
I don't judge the shoes I may one day walk in
I just sit at his feet unraveling poetry
from the navel of his folklore.
~~~
ENOUGH
It's
Time
Now
To
Outrun
Your shadows
And
Eat
The
Morning
Sun.
You are enough.
Enough of waning and wading in the shallows
Enough
You are enough.
Enough of living outside in-
The cheerleader is internal…they've always been there
Enough
You are enough.
Enough existing
Enough bowing low
and breaking in the bend
YOU ARE ENOUGH
Even if your family didn't tell you
YOU ARE ENOUGH
Even if the words of humans shrunk you
YOU ARE ENOUGH!
~~~
A GAPING EYE
This house-
Where the walls are weeping
The rocker's
eating its own arms
and the colonial rugs
refuse to lay flat
They curl with corners towards heaven
in defiance
and in
earnest
of praying us back home.
~~~
A Song For Kalief
Climb every mountain
Ford every stream
The boots tasted like old, cracked earth inside his mouth
Choking on
His denials of freedom
The aging of his dreams
Follow every rainbow…
Well, he followed every rainbow
And he followed every rule
But only nightmares found Kalief Browder
Inside
The
Mouth
Of
America's
Noose.
Till you find your dreams
Oh, you didn't know?
America eats its young
And swallows them whole.
(italics are lyrics from the interpolation of the song "Climb Ev'ry Mountain" by Oscar Hammerstein II)
~~~
You can follow and support Jaz and her work below!
Instagram: https://www.instagram.com/jazzsingpoet/
Spotify: https://open.spotify.com/album/0r4TpSFsltsmGVQhH4LpMI
Facebook: https://www.facebook.com/soulxplorer
Amazon: https://www.amazon.com/dp/B08L83C2HW