Blue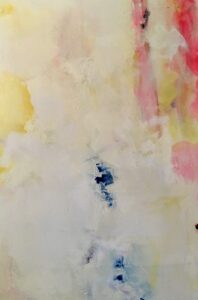 Guided
By Megan Tripaldi
a short play
Distant sounds from a car accident slowly morph into rushing, as if someone is falling from a great height, and then sudden, painful, ringing silence. As the lights come up we see MAE lying on the ground, waking up slowly. She discovers that she can't speak and begins to panic, clawing at her face. DEE suddenly rushes on as if they're late.
DEE:
Oh boy, sorry about that, I wasn't expecting you yet – Oh dear. Ok, uh – up you go! Are you all right? Oh, of course, um – just hold still, I've only ever tried this once…
DEE puts their hand over MAE's mouth.
One – two – three!
DEE pulls their hand away and MAE gasps, her mouth now unstuck.
MAE:
UGH! Thank you…
DEE:
Sure, any time!
MAE indicates the space – "Where am I?"
Oh! I'm Dee.
MAE:
Cool, Dee, so where am I?
DEE:
Well, Mae – oh, it is Mae, right? I didn't get the wrong – ?
MAE nods slowly.
No? You're – Awesome! So, Mae, you've fallen through a Rabbit Hole!
MAE:
Rabbit Hole? Like "Alice in Wonderland", or – ?
DEE:
Yes. Well, I mean it's a metaphor. Not a literal Rabbit Hole, that would be bananas – yeah, there's no smoking caterpillars or grinning cats, but it is a different, uh, y'know.
MAE:
I really don't.
DEE:
Well, like – oh boy, how do I explain this, I should've used the script… Ok! It's a world not of this world! Sooo, Rabbit Hole!
MAE:
And that's the official term?
DEE:
Sure! I mean, I call it that.
MAE raises an eyebrow.
Nobody else calls it that…
MAE:
Mkay. Seems just like a whole lot of empty space, Dee.
DEE:
Well yeah! But you get used to that.
MAE:
So how did I get here?
DEE:
You don't – ? Ok! Well. Nobody prepares you for this part. Ok, um…You're dead? Well, no, dead isn't the right word…
MAE:
I'm dead?
DEE:
Maybe in limbo?
MAE starts poking at herself.
Isn't that what they call it these days?
MAE starts tugging at her clothes.
Well, not dead-dead, but long story short: it's complicated.
MAE is now slapping herself all over.
Don't worry, I've been sent to answer any questions you may have.
DEE finally notices MAE attacking herself.
Oh gosh! Hey! Don't – oh boy, ok –
MAE stops.
There you go. No need to hurt yourself.
MAE:
What does it matter if I'm…?
DEE:
Well like I said, not dead-dead, but – Look, I'm sure you have tons of questions and that's why I'm here! Don't be shy, ask away!
MAE:
You are so enthusiastic…
DEE:
Aw, thanks!
MAE:
So, um… Ok, how did this happen? Like – how am I here?
DEE:
A car accident. Just you, rain, a tight curve, bad tires, and a steep drop-off.
MAE:
Oh my – Wow, ok…so an accident, but I'm not uh "dead-dead", so am I in a coma?
DEE:
Yes! Great deductive reasoning!
MAE:
Thanks?
DEE:
I just love when people can figure things out. Makes it more fun!
MAE:
Yeah, Dee, this is super fun.
DEE:
I know! What else do you want to know?
MAE:
Uh…does my family know yet?
DEE:
Well they don't think you're here, if that's what you mean. But they know where the physical you is. Meaning they can see your body.
MAE:
…Who are you?
DEE:
Oh I – I thought you – I'm Dee –
MAE:
No I know – like what is your, uh – why are you here?
DEE:
Oh! Well, I'd call myself a…guide? There's no official name, like with the Rabbit Hole, but it seems to be the most –
MAE starts to walk away.
Ok, no wait, wait! Please don't – look, it's my…it's my first day.
MAE:
Your first day.
DEE:
Yeah… I – I transferred from a different department. But I'm so excited for this opportunity! …So? What do you think? Wanna get guided? Gaid? How do you – ugh, I'm sorry. Whew! Let me just –
DEE centers themself.
Would you like me to guide you?
MAE takes a moment because what else is she going to do?
MAE:
Fine.
DEE:
Oh! Awesome! Really? Awesome! I won't let you down!
MAE:
You are – yeah, you're going to have to take that down a couple of notches.
DEE:
Right. Quiet enthusiasm. Got it.
MAE:
So…what are you, like, a ghost or something?
DEE:
ME? Oh no, I don't have the clearance for that.
MAE:
How…bureaucratic.
DEE:
Let's just say I'm the person you meet before you're dead-dead.
An olive branch –
MAE:
A guide before I've died.
DEE:
Oh! That's hilarious! That's me!
MAE:
Quiet enthusiasm, Dee.
DEE:
Right. Of course. That was just very unexpected and funny.
MAE:
So what do we do now? How do you guide me?
DEE:
Well, you're at a – let's call it a bridge! Ok? So, you're at a sort-of-bridge. What you need now is to decide whether you get to cross it or not. One way leads home, the other – well, over the bridge!
MAE:
Home. As in – ?
DEE:
No more coma.
MAE:
So I have a choice?
DEE:
Mm. Ish.
MAE:
Super clear.
DEE:
The decision isn't – you don't think it. You just know it.
MAE:
So how will I know?
DEE:
I can't tell you that. Only the people who cross the bridge know once they've crossed.
MAE:
Helpful.
DEE:
I know it's not much to go on –
MAE:
It's nothing to go on!
DEE:
I'm sorry. It's very limiting, this guiding. But at least you know what can happen! That's something?
Oof. DEE looks around as if they're about to say something they shouldn't.
Listen, I shouldn't be doing this, but…I can help you see them. If you want. Your family.
MAE:
Are you serious?
DEE:
Well you can hear them. Your eyes are closed, so seeing them – I mean, this whole thing is kind of frowned upon, but I don't know, it may help in this case. I mean it also might be tough, you know, because you can't –
MAE:
Please, I just – thank you for your concern, but I just…please.
DEE nods.
Thank you. Thank you.
DEE:
Follow me. They take a few steps and whispers begin to trickle in.
MAE:
What is that?
DEE:
You're just passing through a few layers of the subconscious. It'll stop soon.
MAE:
Ah, it's hurting my head.
DEE:
Common side effect.
The whispers abruptly stop.
MAE:
What do I do now?
DEE:
Close your eyes.
She does. A cacophony of voices fills her head – it's painful.
Don't fight it.
MAE hears something – she starts to cry. She tries to say something, but it's like she's lost her voice. She tries and tries and tries, but nothing comes out.DEE slowly reaches out – hesitates – then puts a hand on MAE's shoulder. They're back. After a moment MAE shrugs her off.
MAE:
That was the decision, wasn't it?
DEE looks at the ground and MAE nods in resolution. She finds a place in the blankness to sit and pats the ground next to her. DEE, surprised, sits with her.
MAE:
So what happened to you?
DEE:
What do you mean?
MAE:
Why did you transfer, really?
DEE:
Oh! Well, I just died.
MAE:
Like, when I got here?
DEE:
A moment or so before, yup.
MAE:
So a different department means –
DEE:
I was living and now I'm not.
MAE:
Oh…wow…
DEE:
It wasn't that bad. Once I let go it was relatively easy.
MAE:
You've only been dead a few minutes, how is that easy?
DEE:
Well, time works differently here, so –
MAE:
Yeah, no, I should've… So what made you let go?
DEE:
Well, my situation was different, it – it wasn't so sudden. I was sick for a really long time and I just wasn't- I was here for so long. After a while it just felt right.
MAE:
But you didn't cross the bridge?
DEE:
No. I still have work to do. That's why I'm here.
MAE:
But I don't see it anymore. Does that mean – ?
DEE:
I'm not sure what it means. But it should pop up eventually. When it's supposed to.
MAE:
Right… So, I guess, um…I guess we wait then?
DEE:
Sounds good to me!
MAE:
Of course it does.
This is hard to say.
You won't, um – you won't leave, will you?
DEE:
Well, I am your guide, so…you're sort of stuck with me.
MAE:
Oh great.
They laugh. MAE takes DEE's hand and squeezes. DEE squeezes back.
They stare out into the distance. And so they wait. Blackout.
Megan Tripaldi (She/They) is an actor, bi-coastally produced playwright, and educator living and working in Portland, ME. They graduated from the University of Southern Maine with a BA in Theatre in 2012 and are currently in pursuit of a Masters Degree in Playwriting at Goddard College. They are happy to keep creating with their theatre company, Polyphonic Theatre Ensemble.
by Margie Stokley-Bronz
Margie Stokley-Bronz (she/her) is a multidisciplinary artist and parent. She is a published playwright, painter, actor and filmmaker. She received her BFA from NYU and is currently pursuing her MFAW through Goddard College. When not writing, she runs a successful arts afterschool business, "Give it a go!" in Fairfield, CT. (www.giveitagoct.com) Thank you to her editor and father, Fredrick J. Stokley. Her commitment to write is sustained by the love of Ryan, August, and Tennessee.